In line with our March Madness promotion, this weeks blogs will be all about patios! This blog will cover the what, why and how of patios.
What is a patio?
A patio is an outdoor courtyard that doesn't need surrounding walls. They are often attached to the house although they can be detached if desired. Patios can take on any shape and be built with a variety of materials. Most patios are built on ground level, therefore not needing railings. A patio space is generally used for dining or recreation. A patio roof provides more opportunity for constant use of an outdoor area throughout the year.
Patio Benefits 
There are many benefits to having a patio installed to your outdoor area. It offers protection from the hot sun, rain and storms. Your outdoor area will also be warmer on cold days and cooler on hot days than it would be without a roof. This means that you will be able to use your outdoor area anytime you like the whole year throughout. Another benefit that comes from the protection of a patio is for your outdoor furniture. Barbecues, outdoor setting and tables can be extremely expensive, so you don't want them to get ruined by the weather! If you have pets that sleep or spend a lot of time outside, they will be out of the elements and safe in your patio area. A patio is a great place to unwind after a long week at work, sit and watch the kids play in the backyard, or to host a party or barbecue. Also, if you decide to sell your home at some point, a patio will definitely add value!
Alternatives to a Patio
Pergolas
A pergola is an un-roofed structure – which can be left open or covered with a material such as shade cloth or climbing plants. A pergola is a good option if you already have a covered space to enjoy, but want an open-air area that allows in a good amount of light and air. As shown above, if you want a natural feeling shade area – plants grown over a pergola can be the perfect addition to your back yard. It is important to remember however, rain will not be kept out of a pergola unless you cover it with the correct material (plants will not keep rain out). If you are interested in a pergola – they are included in our current March Madness promotion! As long as it fits the criteria for the promotion, you will receive a $250 Stratco gift card on sign up.
Shade cloth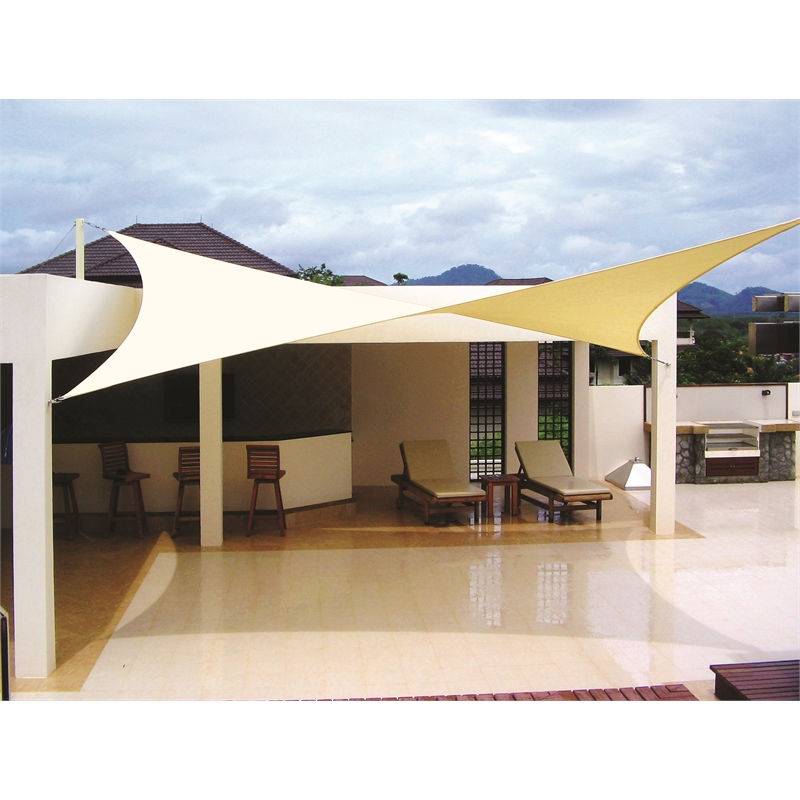 You can create a very simple and cheap alternative to patios with shade cloth. If you have an extremely low budget, a shade cloth may be perfect for you. It is true however, you do get what you pay for. Shade cloth will have trouble keeping heavy rain out and is susceptible to wind damage.
Umbrellas
An outdoor umbrella is another cheap and simple option if you have a smaller budget. This is also a good option if you are renting or for any reason can't make changes to your home (could be used as a temporary solution while organising something else). They are usually stand alone and completely portable. They are likely not a very large size however, so this should be considered also. The same goes for Umbrellas as Shade cloth – Heavy rain may find its way through or around and wind damage is possible.
Awnings
Awnings, yet another cheaper option can also be considered. Awnings are usually much smaller than patios and pergolas. They are not as secure and protective as other options, as you can see in the above photo sun does come in quite easily and so does rain. but this is another perfect low budget option.
Now to look at what patios offer as a whole
We may be biased because we do love our patios here at Hats for Houses – but we do recommend a built in patio for any outdoor area. They may be one of the most expensive ways to cover your outdoor area, but as we mentioned earlier in this post – you do get what you pay for. If you are either trying to sell your home at a higher price or you plan to stay in your home for many years to come, a patio is a great option to go for. It will add much more usability to your outdoor area. If you and your family enjoy being outdoors together or even to enjoy some alone time –  a patio will allow you to do this 365 days a year.
So how much does a patio cost?
This is highly dependent on many things. The price of your patio will depend on the size, style and design. It will also depend on whether you want to add a deck or other additions such as lighting and fans. We would hate to name an "average price" and have some of our customers be disappointed when the patio that they want is more expensive. This is why we will just say that you are best off getting a quote done if you are interested. They are completely free of charge and obligation so you don't need to be nervous about getting pressured into anything. Simply call us with your desired budget and let our estimators do their job! Once you have finished renovating your home (or even if you didn't do any renovating) – a patio will definitely add an extra something to your home. Contact us to talk further about your options!
View more information about our Patios, Carports and Decks here